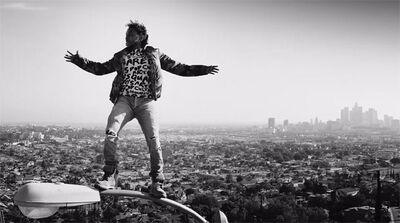 Alright
is a song by American rapper
Kendrick Lamar
, taken from his third album
To Pimp a Butterfly
. The song features uncredited vocals from the song's producer Pharrell Williams during the chorus. The song was released to radio stations as the album's fourth single on June 30, 2015. The song's accompanying music video premiered on the same day which has received critical acclaim and over 54 million views on YouTube. The song also received four Grammy nominations, only winning two latter.
Music Video
Edit
The video opens with shots of life in a neighborhood of Los Angeles, then shows a young African-American man being seen lying on the ground while Lamar is speaking in a voice-over. While police and destruction flood the streets as the music starts with Lamar rapping a new verse along with members of Black Hippy in a car being carried by four police officers. Lamar then flies through California while his crew throws out money and dancers perform in the streets. The video ends with Lamar standing on top of a lamppost as a police officer shoots him down. Lamar falls down from the post as he finishes his monologue that he was saying that the beginning of the video and then ending with him smiling.
Ad blocker interference detected!
Wikia is a free-to-use site that makes money from advertising. We have a modified experience for viewers using ad blockers

Wikia is not accessible if you've made further modifications. Remove the custom ad blocker rule(s) and the page will load as expected.